The Japanese cult classic; Katsu Curry with an aromatic curry sauce has been veganised. Serve with pillowy jasmine Rice and Fresh vegetables for a refreshing yet wholesome dish. Enjoy our Biona recipes.
All Biona Organic ingredients are available at all Quay Co-op shops in Ireland.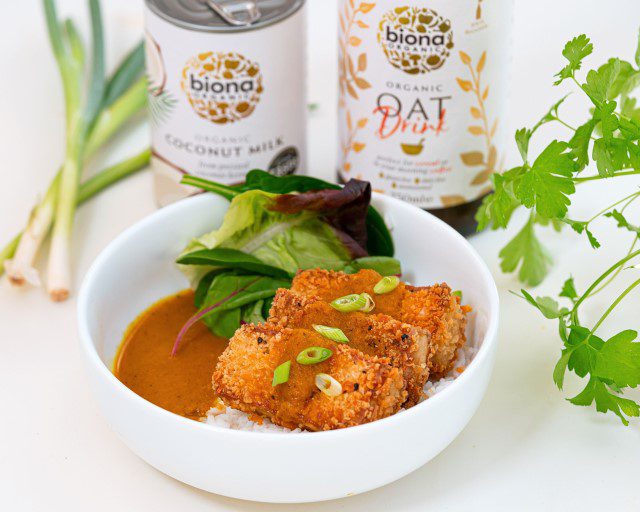 INGREDIENTS
For the Tofu:
For the Curry Sauce:
½ white onion, roughly chopped
2 medium carrots, sliced into 0.5cm rounds
2 cloves garlic, peeled and finely chopped
½ tablespoon curry powder
½ teaspoon garam masala
1 tablespoon plain flour
300ml vegetable stock
2 tablespoons Biona Organic Coconut Cream
To serve:
2 handfuls of mixed salad leaves
1 spring onion
METHOD OF PREPARATION
To press the tofu, place it on a tea towel and place a weight, such as a plate, on top. Leave it to sit for 30 minutes.
Preheat the oven to 200°C (180°C fan-assisted).
On a small plate combine the flour with generous pinches of salt and pepper. Transfer the milk to another separate plate with raised edges. Pour the cornflakes into a tea towel and crush them with a rolling pin until fine, then transfer to a third separate plate.
Slice the tofu into 1cm thick slices, then coat all over in the flour mixture, then dunk fully in the milk and cover all over in the crushed cornflakes.
Heat a little oil in a frying pan on a medium heat and once hot, add the tofu slices and fry for 2-3 mins on each side, until crispy. Then transfer the tofu slices to a baking tray and bake in the oven for 15 minutes.
Add the onion and carrots to the frying pan you used earlier (add an extra splash of olive oil if needed) and fry for 7 minutes on a medium heat.
Peel and dice the garlic, then add it to the frying pan and fry for 2 minutes.
Add the curry powder, garam masala and plain flour to the pan, and fry for 1 minute, stirring frequently.
Pour in the vegetable stock, bring the sauce to the boil, then reduce the heat and simmer for 10-15 minutes or until the carrots are soft.
Cook the rice as per the packet instructions.
Stir 2 tablespoons of coconut cream into the sauce and season to taste with salt and pepper. Transfer the sauce to a blender and blend until smooth. If the sauce is too thick, add a little more water until it's smooth and runs off of a spoon.
To serve, place a portion of rice into each bowl with a handful of mixed salad leaves, then pour in half the sauce for each portion and top with a few slices of the tofu.
To finish, slice the spring onion thinly and sprinkle over each serving. Enjoy!