Biona Vegan Butternut Squash and Kale Lasagne
Did someone say Lasagne?
This popular delight can be a snack, or can be your lunch! Originally a meaty bite, but guess what… Biona Organic has special vegan and vegetarian recipes for lasagne! Learn how you can prepare the Vegan Butternut Squash and Kale Lasagne recipe.
Enjoy!
All Biona Organic ingredients are available at all Quay Co-op shops in Ireland.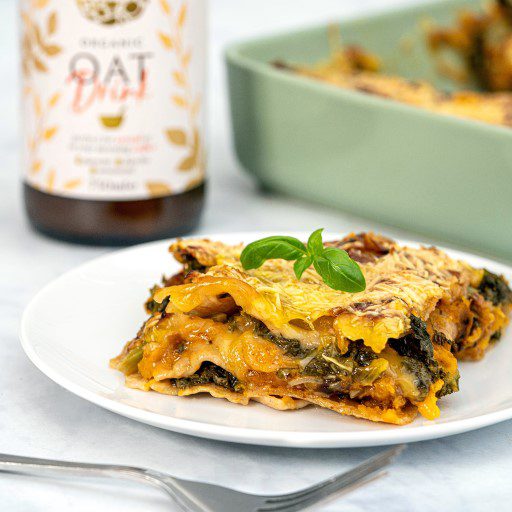 Recipe: Vegan Butternut Squash and Kale Lasagne –
https://biona.co.uk/recipe/vegan-butternut-squash-and-kale-lasagne/
Info:
Ah lasagne… there are few greater comfort foods as the nights draw in. A versatile meal that the whole family will love, our autumnal version layers seasonal butternut squash with our spelt lasagne sheets for extra goodness. Use our new Organic Oat Drink for the creamy white sauce.
INGREDIENTS
1 butternut squash
2 tbsp Biona Organic Olive Oil
3-4 cloves garlic
2 teaspoons sage
1/2 teaspoon allspice
Pinch of salt
1 red onion, thinly sliced
Fresh kale
*Biona Organic Spelt Lasagne Sheets
FOR THE BECHAMEL SAUCE:
2 tbsp vegan butter
35g plain flour
1 litre Biona Organic Oat Drink
4-5 cloves garlic, minced
1/4 teaspoon nutmeg
Pinch of salt, to taste
METHOD:
To prepare the butternut squash: Preheat the oven to 220c. Slice the butternut squash in half, lengthwise. Drizzle with 1 tablespoon of olive oil, sprinkle with garlic, sage, allspice, and salt, and bake for 40 minutes, until very tender.
While squash is baking make the Bechamel Sauce (directions below) and prepare the sheets and kale.
To prepare the kale: In a large sauté pan, heat the additional 1 tablespoon of olive oil over medium-low heat. Add sliced onions and sauté slowly, stirring occasionally, for about 15 minutes. Once onions are soft and lightly browned, stir in chopped kale. Sauté for another 5 minutes until kale is cooked. Product: Biona Spelt Lasagne Sheets
When the butternut squash is done, remove from heat and reduce the oven to 190-degrees celsius. With a spoon scoop out squash from the skin, and mash. Set aside.
BECHAMEL SAUCE
Heat vegan butter in a saucepan over medium-high heat. Once butter is melted, add flour and stir over heat for 3-4 minutes, until the mixture is smooth and golden-brown. In another pot, bring milk, minced garlic, nutmeg, and salt to a boil.
Add hot Biona Oat Drink to vegan butter/flour mixture in 3 batches. Bring to a boil, whisking often, then reduce heat to a simmer. Cook for 10 minutes, whisking constantly.
Once thick and creamy, remove from heat and set aside. The sauce will continue to thicken as it cools.
ASSEMBLING THE LASAGNE
In a 9×13 baking dish, pour a small amount of Bechamel Sauce on the bottom and spread evenly.
Lay down a layer of lasagne sheets followed by Bechamel Sauce, mashed butternut squash, and then sautéd kale. Top this with more Bechamel Sauce and repeat the process.
Top with the 3rd layer of sheets and the final layer of Bechamel.
Cover in foil and bake for 40 minutes. Remove from oven and let cool for 5 minutes before slicing. Top with vegan parmesan cheese and/or parsley and serve.
Get your ingredients at the Quay Co-op Cork.
Enjoy your meal.