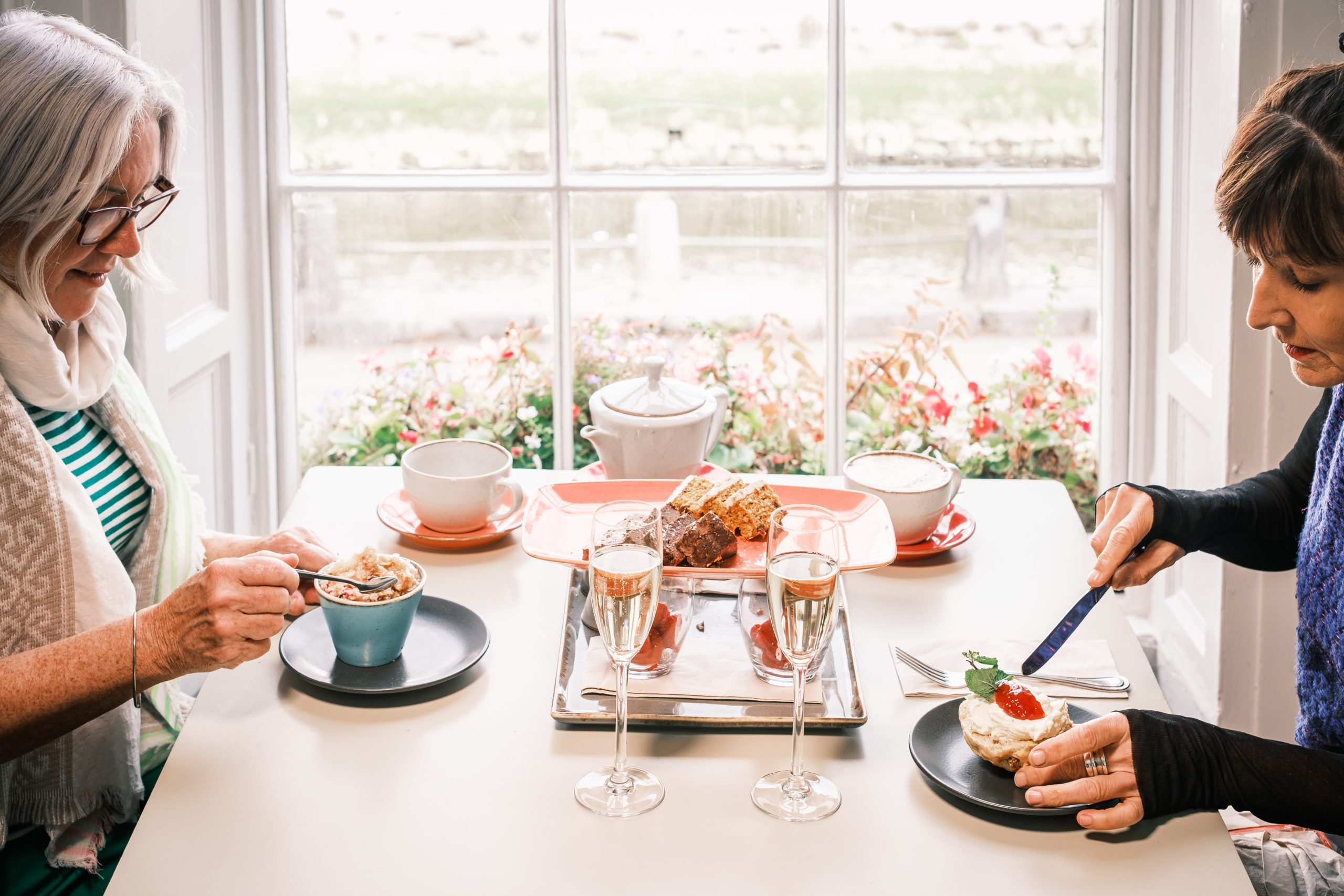 Afternoon Tea – Vegetarian & Vegan
The Quay Co-op has introduced a brand new Vegetarian and/or Vegan Afternoon Tea starting on World Vegan Day! Vegetarian and Vegan Afternoon Tea is available from our 'Upstairs at the Co-op' restaurant on O'Sullivan's Quay. Guests will be treated to a mix of vegetarian and vegan (or fully vegan) savoury and sweet treats from 2.30 to 5.00pm Wednesday to Saturday, alongside the all-day dining menu. Our Vegetarian and Vegan Afternoon Tea is a chic and tasty new addition to our offering at the Quay Co-op. It gives Cork diners an opportunity to experience a deliciously different afternoon treat. All of our food at The Quay Co-op is exclusively vegetarian and vegan and our focus is on sourcing sustainable and ethically produced food while creating delightful dishes to please all palates. Our team from 'Upstairs at The Quay Co-op' Restaurant have created a delicious selection of sweet and savoury dainty dishes to be enjoyed from a perfect perch overlooking the River Lee. The Quay Co-op is for everyone and this will appeal whether you're vegan, vegetarian, want to incorporate a more plant based lifestyle or just like good food.
On the menu is:
Savoury: Vegan avocado wraps, Mezze plate with artichoke hearts, roasted red peppers, traditional hummus, dolmas, toasted almonds and marinated olives served with seeded pitta
Middle: Spelt scones with (vegan) cream and raspberry jam
Treat: Avocado chocolate cake, Apple crumble pot and Glazed carrot cake.
Vegetarian or Vegan Afternoon Tea is €22.50 per person or €29.50 for sparking afternoon tea with a glass of prosecco. A festive edition will be served throughout December, featuring warming organic Gluhwein and will cost €27.50 per person.
Upstairs at the Quay Co-op Vegetarian Restaurant is open for lunch, Afternoon Tea and dinner Wednesday to Saturday from 12 noon.
Available from 2.30 to 5.00pm, Wednesday to Saturday
Upstairs at The Quay Co-op
For more information or to enquire about booking for groups, please feel free to contact us on tel:+353 21 4317 026 or email: restaurant@quaycoop.com